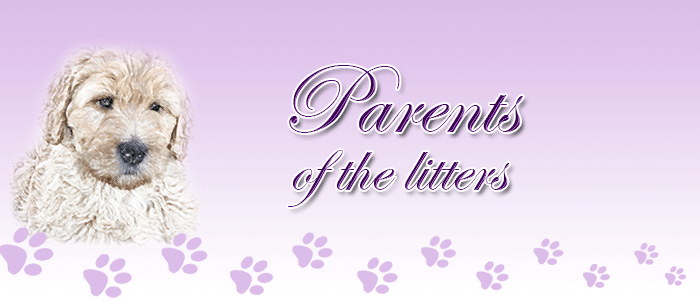 Home Available Puppies Upcoming Litters Older Pups/Adults
Pricing/Payments Contact Info Parents Guardian home info
These are our current breeding girls that have puppies now or coming up. Please note that we only have 1 intact dog that lives with us (Firethorn), the others live in guardian homes that they will remain with forever, we just retain the breeding rights on them. This enables us to have access to a variety of pedigrees within our program without using kennels. All parent dogs are raised 100% in family homes.
The Girls
All have passed their health testing for hips, elbows, cardiac, patellas and eye disease, as well as dna clearances for other diseases.

West Des Moines, IA

Shelby Ave Be Victorious
"Nike"

Nike is a gorgeous little bundle of love! She loves hanging with her cousin-doggie, getting pushed in the swing, and bunny watching out the window!

Mini
straight/wavy fleece
black parti, carries all colors


New Harford, IA

Shelby Avenue Piper

Perfection! This munchkin is quite the little package, sweet and friendly, loves everyone. Her guardian family is totally smitten with her!

Mini
straight/wavy fleece
white w/cream parti, Bbee


New Hartford, IA

Shelby Avenue Kiplee

Kip is a happy girl! She has a wonderful temperament and is very sweet and loving. She has a perfect soft straight fleece coat.

large mini
straight fleece
chocolate phantom


Orange City, IA

Shelby Avenue Reya

What a hoot! Reya is such an adorable clown. Her antics always amuse us when she is here for a visit. She is so happy and smart, the classic Australian Labradoodle temperament we breed for.

mini
wavy fleece
cream



Our boys are raised in their forever homes with their loving families.

Our only resident breeding dog, retiring soon...

Doodle Lane's Firethorn
"Finn"

Finn is such a snuggler! He always has a water bottle in his mouth, it is his favorite toy! Even on walks he will carry it the entire time. He LOVES his toys and you will never find him without something that is dear to him! And to add to the total package, his puppies are SPECTACULAR! Finn has an interesting coat that is sometimes medium in color, and sometimes darker in color, you can watch it change at the roots as it grows out. So about 3 times a year, when he gets his coat cut short, he goes through a color change! he is pictured here at his darkest. OFA good

medium, 18" and 35 pounds
wavy fleece
Caramel with white markings
bbee, carries parti, sable and phantom

Fort Dodge, IA

Mill Creek's Ollivander
"Brownie"

What a handsome boy we have found in Ollivander! He is such a playful, fun loving guy! Ollivander is a sweetie that you can not help but fall in love with, I know I sure have! His puppies have been absolute dreams!

small medium, 18" and 30 pounds
wavy fleece
chocolate with white
bbEe pra clear

Manson, IA

Manor Lake Magneto "Max"

What a special guy Magneto is! We have waited a long time for this perfect addition! Max is solid as a rock, he is built like a Labrador, just a bit smaller. But don't let his heft fool you, he will melt when you pet him, and especially loves tummy rubs! What a sweet, sweet boy, with a heart of gold. Max's puppies are amazing!
Max is not available for stud service

Large Medium, 19" and 45 pounds
wavy fleece
dark chocolate
bbEe, pra clear, IC clear

Carroll, IA

Brasken's Prince Oberyn
"Obi"


Meet our lovely caramel addition from sunny California! He is super smart and intuitive, loves everyone and thoroughly enjoys every cuddle he can get! We have been searching for the perfect boy to use with Finn's daughter's, and I think we found him! Obi is a mini Australian Labradoodle, but he is solid as a rock, very stocky!

miniature, 16" 27 pounds
wavy fleece
caramel
bbee, IC clear


Webster City, IA

Hales Cowboy

Another California boy! This guy is quiet and sweet, loves everyone and aims to please. I am so thrilled to add this chocolate morsel to my program!

Miniature, 15", 20 pounds
straight fleece
dark chocolate tuxedo/parti
bbEe





Sunset Hills Megastar
"Griffin"
Imported from Australia

Griffin is not available for stud service


Size medium 18" - 32 pounds
Coat wavy soft fleece non shedding
Color lavender (dna color bbEE)

Griffin is semi-retired! We have several breedings worth of frozen semen stored from him for future use. Great job Griffin, you have left a a great legacy of stunning progeny to move forward with, you truly were a blessing to my program!


Cedar Falls, IA

Shelby Avenue Ulysses
"Uly"

Uly is full of fun and loves to play! However, he is very willing to give some cuddle time whenever you need it! Love this boy! Dainty is not a word to describe Uly, he is thick and solid, heavy for a small boy, but very nicely put together.

mini, 16 inches, 27 pounds
wavy fleece
dark chocolate phantom, non fading
IC clear, bbEe, Ky/Ky at/at, carries parti

Evansdale, IA

Zebulon

Zeb is such a happy boy! I am excited to have found a great mini boy with new lines to bring in, he should be perfect! And he is OFA excellent!

miniature
16-17" and 25 pounds
wavy/curly hair coat
light apricot
IC clear

Twin Lakes, IA

Shelby Avenue Tobias
"Tobie"

Tobie is living large on the lake! He is a happy guy, very well rounded, smart and loving. We completely enjoy every minute of his visits to our home.

mini, 22 pounds
wavy fleece
cream
Bbee, IC clear