We love it so much that we are making the switch to pawTree permanent!
After much research, we have decided to add the pawTree products to our program. While we have been very satisfied with Life's Abundance foods, we are also aware that there is a need for a variety of protein sources in our pets. PawTree offers a large variety of protein sources and is a very high quality, holistic food. In addition to their quality foods, they offer a great line of other products as well that we are using within our program.
With the different flavors of toppings and foods, your pet is going to love not eating the same 'ol thing every meal! Have a picky eater? PawTree offers a diverse selection of flavors to entice a picky eater to fill his tummy!
I am currently using a combination of two protein sources from pawTree. I will be trying out different combos with future litters, so if you are getting a puppy from Shelby Avenue, please see the varieties I am curently using in your food email, or just shoot me an email to ask.
**With my current litters, I am using the Chicken and Sweet Potato, as well as the Duck/Chickpeas. If you only order one, the best option is the Chicken and Sweet Potato. For treats I have added the Chicken, Pumpkin and Cinnamon Strips sparingly, as well as freeze dried Chicken/Apple/Kale.
This link will have what we are currently using, though you can browse through their other offerings as well.
It is easy to put it on EZ Ship now and later you can change which products you would like included in future shipments. They do have nice puppy starter kits as well.
Use code INTRO4U to get 20% off your first order!
Looking for Life's Abundance? Below is our info on Life's Abundance. Please note if you are getting a puppy from our current litters, they have been solely on pawTree.
Premium Health Food for Puppies and Adult dogs
After many years of trying different foods, only to have them recalled causing worries and what-ifs, we have settled on Life's Abundance. It is conveniently delivered right to your door and is always fresh. Each ingredient in Life's Abundance food is carefully chosen to work with all the others to provide your dog with a wholesome, highly-nutritious and perfectly-balanced meal every day, every year… over a long and loving lifetime.


Click here to visit the Life's Abundance Dog Food Page

Mini puppies should start with the Small Breed Puppy food, it has smaller pieces.I highly recommend the Healthy Start Packages: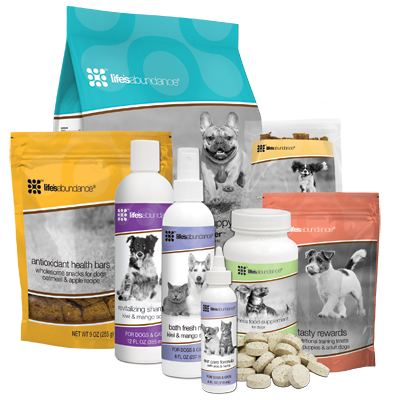 Small/Medium Puppy Healthy Start Pack - click to order
TREATS - I recommend waiting until your puppy has settled in before offering many treats, and even then, use them sparingly! Too many treats for a young puppy can cause an upset tummy. I prefer the Tasy Rewards from Life's Abundance, I really like to stay with the same product line, especially for young puppies.